All professionals at Savannah Dermatology Clinic PC maintain the highest levels of accreditation and pursue ongoing education to stay abreast of the latest trends in the medical field. Read on to learn more about our staff's experience and training.
---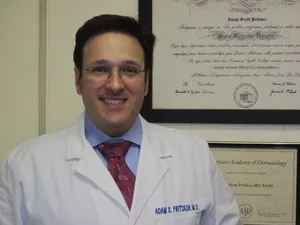 Dr. Adam S. Pritzker
Savannah, GA Dermatologist
Savannah Dermatology Clinic
Dr. Adam S. Pritzker grew up in Savannah, GA where he attended and graduated from Savannah Country Day School. He went on to earn his undergraduate degree from the University of Georgia Honors Program , graduating Summa Cum Laude. Dr. Pritzker obtained his Medical Degree at Medical College of Georgia . He graduated at the top of his class with a 4.0 GPA and is a member of the Alpha Omega Alpha Honor Medical Society. He did a one year internship in Internal Medicine at Emory University. He then trained in dermatology at the University of Texas Southwestern in Dallas where he received his board certification. While in training at UTSW, he was the chief resident during his 3rd year of training.
Dr. Pritzker is board certified by the American Academy of Dermatology . He is a Fellow of the American Academy of Dermatology and a Diplomate of the American Board of Dermatology . Dr. Pritzker specializes in skin cancer screening and diagnosis and treatment of skin cancers including basal cell carcinoma, squamous cell carcinoma, and melanoma. Dr. Pritzker also removes benign growths and does minor cosmetic procedures such as sclerotherapy, mole removal, removal of telangiectasias/angiomas (blood vessel growths), and removal of other benign lesions.
His interests are spending time with his family, jogging, reading, and collecting wine.
---
Courtney Williams, MSN, APRN, FNP-BC, DCNP
Dermatology Nurse Practitioner
Courtney Williams, MSN, APRN, FNP-BC, DCNP joined Savannah Dermatology in 2018 and is a certified Dermatology Nurse Practitioner. She is originally from Fairmont, WV. She moved to the Savannah, GA area in 2009 where she attended and graduated from Richmond Hill High School. She then received her Bachelor's of Science in Nursing from Armstrong State University , graduating Cum Laude. During her undergraduate degree, Courtney was a member of the Armstrong Association of Nursing Students and served as Treasurer. Courtney spent her career as a Registered Nurse working in Medical/Surgical Oncology in Savannah, GA and was an active member of the Oncology Nurses Association. In addition, she became certified to administer chemotherapy/biotherapies to oncology patients. Courtney then moved on to continue her education and obtained her Master's of Science in Nursing degree from Georgia Southern University with focus as a Family Nurse Practitioner. Courtney is board certified by the American Nurses Credentialing Center and a member of the American Association of Nurse Practitioners . Courtney enjoys spending time with her family, watching movies and traveling.